The Ultimate Small Business Gift Guide
This blog contains affiliate links. I may earn a commission if you use these links to make a purchase. You will not be charged extra. As an Amazon Associate, I earn from qualifying purchases.
As today is Black Friday and tomorrow is Small Business Saturday, I wanted to share some of the small businesses I'm currently obsessed with! These shops are all places that I love to shop for myself, for Christmas gifts, and definitely have items on my wishlist this year. Let's support small business this holiday season! Thanks to Ohio. Find It Here. for partnering with me on this post!
Oh Pink! Party Shop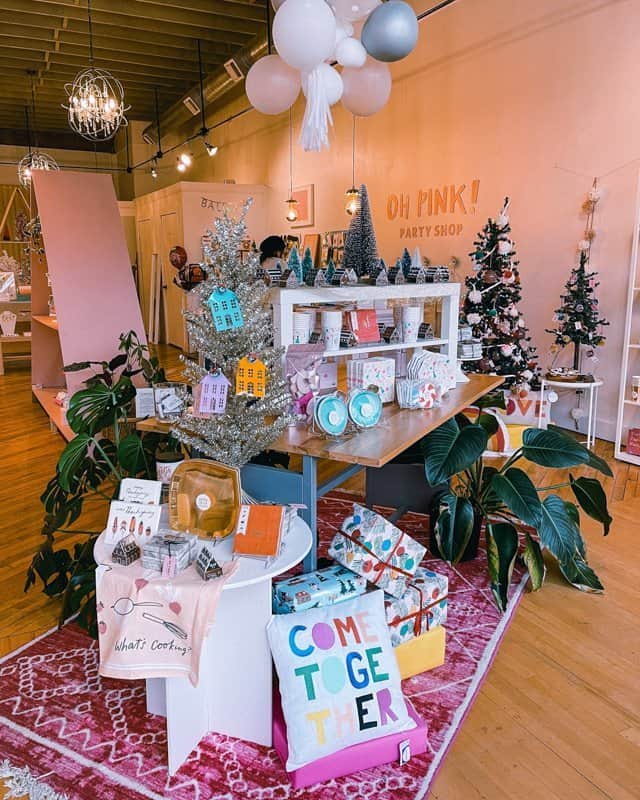 Catherine has created such a lovely shopping experience in her pretty pink shop located on W. 25th Street in Ohio City. You'll not only find the cutest party supplies and gift wrap but adorable accessories and gift items as well. She also creates custom balloon displays and has a full balloon bar to take your parties to the next level!
The Cleveland Traveler Shop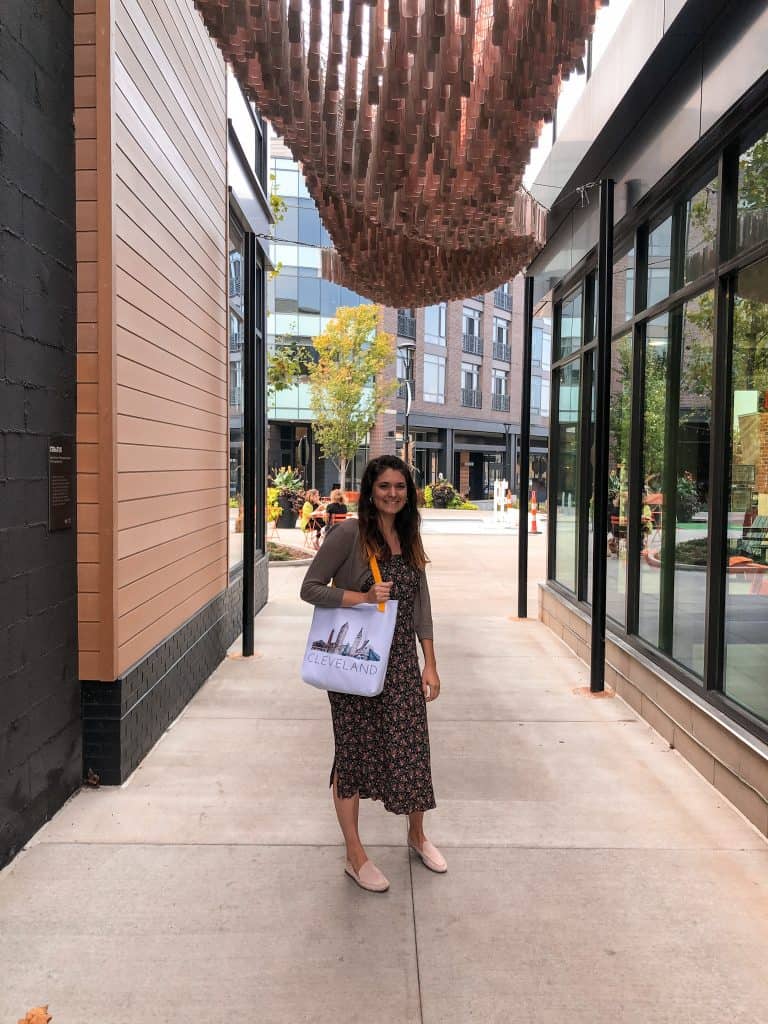 My friend, Amanda, gifted me an amazing Cleveland skyline tote bag from her Cleveland Traveler shop and I love it! The tote is really nicely made and the straps are sturdy so this bag will last a long time. It's the perfect gift for Cleveland fans in your life. She also has prints and a lot of different styles of mugs in her shop too.
SWdsgns
Samantha hand-embroiders the cutest designs into shirts, hats, sweatshirts. I personally have one of her Cleveland skyline baseball caps and love it!
Shore Society
From apparel to prints and mugs, if you love a good nautical vibe, Shore Society is the brand for you! You can shop Shore Society online and in some local shops around Cleveland. She also blogs about her amazing travels.
Some of my favorites from Rachael's shop are the Salty sweatshirt, Lake Erie Hoodie, and Cooler by the Lake coffee mugs.
Emily Roggenburk
Emily Roggenburk is an apparel and photography shop. If you have ever seen an aerial photo of the Cavs Championship parade in 2016, chances are it was taken by her! You can shop her photography and clothing line through her website, or at her shop located in Crocker Park.
The Cleveland Candle Company
The Cleveland Candle Company has over 200 scents of soy wax candles! If you live in Cleveland, you can go in and make your own custom scented candle at one of their three locations while supporting small business!
Fetch & Co.
Fetch & Co. is a local clothing store owned by two bestie boss babes, Abbey and Julia. They have adorable boutique style clothing for women of all shapes and sizes and a passion for making everyone feel beautiful in their own skin.
Oceanne Jewelry
Oceanne is another small business that I know you will love! The owner, Anne, is from France and moved to Cleveland years ago. She designs and creates the most beautiful jewelry and apparel. I love buying gifts for friends and family members from her beautiful store in Gordon Square Arts District and online too.
Anne Cate
Anne Cate designs and makes the most adorable wallets and bags! I really love my Cleveland Browns Skyline wallet. She has them for so many cities, sports, and other fun design collaborations!
Kiri Chic
Kiri Chic makes the cutest sandals and mules around! They are so nice for travel lovers. I have the Ireti Blue/Black style and I loved wearing them over the summer and will definitely be bringing them along with me when I travel!
Read More: Try These Amazing Black Owned Businesses in Cleveland
Bombay Taxi Boutique
Bombay Taxi Boutique sells the loveliest accessories! I've added these adorable Ocean + Gold Acrylic Earrings to my wishlist this year.
Choate Body
I'm obsessed with my Matcha Peppermint Facial Cleanser from Choate Body! It's so refreshing and makes the perf gift for the skincare obsessed!
Read More: Clean Beauty Products You Need In Your Life
The Circle Craft
The Circle Craft creates gorgeous jewelry! Any of their pieces would make a lovely gift. I really love this Honey Bee Ring!
Lauren HB Studio
Lauren HB Studio has the coolest pottery creations. I have this fun mug and love the unique geometric shape of it. My mug lives on display on my coffee bar and makes me happy to see it every day!
Yaya & Co.
Yaya & Co. makes sustainable textiles for the home. It is all so gorgeous and soft and would make the perfect gift for new homeowners or college grads setting up their new apartments!
LIV The Collection
LIV The Collection has such stunning vintage rings and jewelry. You're sure to find a special, one of a kind gift here! These vintage earrings are lovely!
THD Shoppe
The THD Shoppe has so many chic options that your fashionista friends and family will love! This striped top is so cute!
Fount
Fount makes the most gorgeous leather bags and they're made to stand the test of time. These handbags are well worth the investment to be sure. I love the Coventry Bucket Bag, it's so cute!
Lady Luck Concepts
Lady Luck Concepts makes the most STUNNING one-of-a-kind earring collections. I love them all so much I can never decide which ones to buy! I have a pair of these earrings on my wishlist for Christmas this year.
Blair Ritchey
Blair Ritchey has a line of beautiful handbags and wallets. Everything she makes is stunning! I have the Penn Carry All on my wishlist because I have heard it is just the best for traveling and keeping everything organized on travel days!
Lemon Lee Handmade
Lemon Lee makes the prettiest, most fun earrings! I actually just bought a pair for myself at Oh Pink! Party Shop last week!
Whiskey Island Clothing
Whiskey Island Clothing has lots of cool apparel for Cleveland Fans. I have the One Nation Under Dawg sweatshirt and it is one of the comfiest things I own!
Oyl-Natural
Oyl-Natural is a clean beauty brand based in Akron, Ohio. Anything from this shop will be perfect for all of the clean skincare lovers in your life!
Banyan Tree
Banyan Tree carries the cutest styles and gift items! I did a lot of my Christmas shopping there last year.
Lexis Rose Shop
Lexis Rose bakes the most incredible cakes and treats! She started her own online shop this year to sell really cute baking themed products. My fave is the "Stay home and bake" tee. How accurate is that for this year?!
Room Service Boutique
Room Service Boutique is a lovely shop with so many unique and beautiful gift items! I love this jean jacket and I think it would make such a nice gift!
Shop Small Business!
Shop small business with me this year! These local businesses need our help more than ever to stay open after this crazy year we have had. When you shop small business, you directly impact your community and make the owner's day! Target will be here long after the pandemic ends, so let's all commit to shopping small business this year. Thanks again to Ohio. Find It Here for sponsoring this post (all opinions are my own).
Read More…
Please share this post with your friends and encourage them to shop small too!